Benefits of Taking Missouri Online Traffic School
If you are a motorist in the State of Missouri, than you are one of nearly Four Million Drivers on the roadways. Although this exceeds the phrase "one in a million," when it comes to receiving a traffic violation, this seems a lot easier done than said! Obtaining a Missouri traffic ticket can cause confusion, frustration and stress. Don't be in the dark about your driving record or your recently acquired traffic citation. The following information can help you extend your knowledge of the Missouri Point System, traffic rules, regulations, and how you can obtain your driving privileges back.
The Missouri Point System
With every Missouri traffic ticket you receive, you will accumulate a certain amount of points on your driving record. The amount of points assessed to your driving record will depend on the citation itself as well as the severity and type. Each traffic citation will range between two and 12 points. This process of earning or removing points from your driving record is referred to as the Missouri Point System.
Common Violations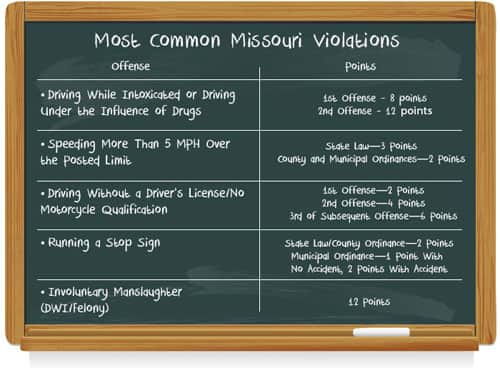 *To view more Missouri traffic ticket violations and their assigned points, Click Here.
If you happen to collect four points within a 12-month period, you will receive a point accumulation advisory letter, courtesy of the Department of Revenue.
If you receive a total of eight or more points within a period of 18 months, the Department of Revenue will suspend your driving privileges. Your first suspension will last a total of 30 days. However, your license can be suspended multiple times. Your second suspension will result in a loss of license for 60 days. After that, the Department of Revenue is subject to suspend your driving privileges for a total of 90 days.
Additionally, the Department of Revenue can and will revoke your driver's license for one year if you obtain:
12 or more points within a 12-month period
18 or more points within 24 months
24 or more points during 36 month's time
Even after gathering all these points due to an excessive amount of Missouri traffic tickets, there is good news: points can be reduced or removed, allowing driving privileges to be returned!
Every year that you drive without collecting more points on your driving record the following amount of points will be reduced:
First year without a traffic citation: total remaining points reduced by one-third
Two years no traffic violations: remaining points are reduced by one-half
Three years with no traffic tickets: points reduced to zero
Benefits of Missouri Online Traffic School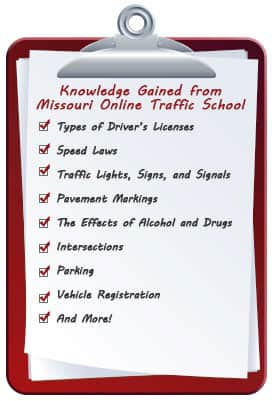 Although you can reduce the amount of points on your driving record by being a safe driver, the quickest way to reduce points is by completing a Missouri online traffic school or Missouri driver improvement program. The majority of drivers opt for this option because points can be subtracted in a timely fashion.
Receiving a point reduction is not the only advantage of completing a Missouri online traffic school course, however. By graduating from the program, you will also stop your auto insurance premiums from reaching maximum heights. Once you obtain a Missouri traffic ticket and points are added to your driving record, your auto insurance provider can and will raise you insurance premiums. Taking this course stops points from reaching your driving record and therefore stopping your insurance company from noticing you received a traffic citation. If points are already assessed to your driving record and you take this course, talk to your auto insurance carrier to ask about special discounts and offers with completion of a driver improvement program. You may be surprised by what they tell you!
Perhaps the greatest benefit of taking a driver improvement program or Missouri online traffic school course is the amount of knowledge you gain. No matter the length of time you have been driving, there are always pointers or lessons you can learn. An Approved Driver Improvement program will teach you all the things you will need to know about driving!
There are no downsides to participating in a Missouri online traffic school program. You save money, reduce points, become a better driver-and that's just the beginning. If you're looking to be the best defensive driver you can while meeting your court or state requirements, don't hesitate to Enroll. By clicking the button below, you will be well on your way to a career of safe driving and saving money.